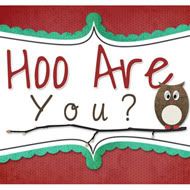 Here are this week's questions!
1. What is your favorite magazine?
I used to really love Marie Claire. I currently subscribe to BHG.
2. What color are your eyes?
3. Do you go to the dentist on a regular 6 month schedule, or do you put it off?
I usually put it off. I haven't found a dentist since I moved. I guess I should get on that. lol
4. Do you use anything to make your house smell good?
ex: candles, spray,etc...
are
I use Gla-day (Glade) scented oil plug-ins. Next time Bath and Body Works has their Wallflower sale, I'm going to get some of those. I also have those little Renuzit air fresheners in the bathroom since outlets
at a minimum.
5. Do you have any pets?

Why, yes I do! I have two cats. Sophie and Lucy. Read more about them here.